• Facebook • Giveaway • Goals • Planners • Planning • Social Media • Stationery • Store News • Supplies • Update • Washi Tape
If you have entered our Valentine's Day challenge and have not shared our page to earn an additional entry, you still have time!  Our challenge will close on 02/14/2016 at 11:59pm EDT.  All you have to do is share our page with your friends and comment on our contest post letting us know that you have shared! (Due to Facebook privacy settings, we have no way of knowing if you liked our page and shared if you do not comment on the post. Please make sure that you do!)  UPDATE: With less than a week away from Valentine's Day, we...
---
• Determination • Goals • Imperfect Sale • Inkwell Press • IWP • Planners • Planning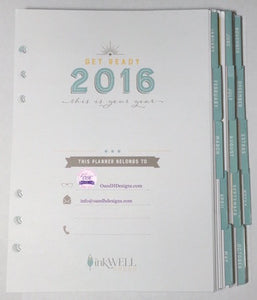 Here at Orchids and Hummingbirds Designs, LLC, we love to support other small businesses!  We also love keep you up to date on planning products, even if we do not carry them.  Simply, we want you to know what is out there so that you can make informed decisions before you buy. INKWELL PRESS ANNOUNCEMENTS FROM THIS MORNING, 01/04/2016 For those of you who missed this morning's Periscope from Inkwell Press, the Imperfect Sale will be held on two separate dates: Wednesday, 01/13/2016 at 10:00am EST - Imperfect A5 liveWELL Inserts, Quarterly Planners, Fitness Logs, Meal Planners and Hard Cover Journals go on...
---
• Determination • Goals • Happy New Year! • Planners • Planning
Don't forget to start your year off right with a new planner to help you define and meet your goals for 2016!  Happy planning!